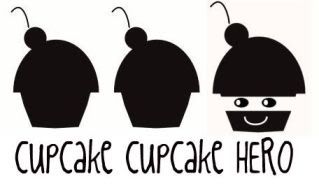 The second round of
Cupcake Hero
has begun - ding ding! Well actually you can't vote yet - but you can bake if you still want to. The theme for this month is
peanut butter
, and my first thought was dang, I've already made my awesome peanut butter cup cupcakes. So what to make? Everyone knows that peanut butter and jam go together so I decided against that. But did you know that some people like peanut butter and banana sandwiches? I don't personally, but supposedly it is a done thing. Still peanut butter and banana just seemed to simple so instead I present to you my....
Chocolate Peanut Butter and Banana Cupcakes
Banana cake filled with peanut butter and dark chocolate ganache, topped with peanut butter swiss meringue buttercream, drizzled with dark chocolate ganache and finished with a choc-dipped banana chip
Before I give you the recipe for these babies can I just say holy moly! These cupcakes were darn good - this flavour combination totally rocks my world. All the folks at Mat's work raved over these cupcakes, in fact I think the only complaint was that it was a bit rich after eating two of them. So if you like peanut butter, bananas and chocolate (and really who doesn't) then I can definitely suggest you make these cupcakes, you won't regret it.

Banana Cupcakes (adapted from The Australian Women's Weekly Classic Cakes)
Makes 24
185g butter, softened
175g caster sugar
3 eggs
335g self-raising flour
1/2 tsp bicarbonate of soda
1 1/4 cups mashed banana
(I needed 4 bananas)
1/3 cup milk
Preheat oven to 180C. Line 2 12-hole muffin trays with cupcake cases.
Beat butter and sugar until light and fluffy. Beat in eggs, one at a time.
Stir in the sifted dry ingredients, mashed banana and milk.
Divide mixture into cases and bake for 15-20 minutes or until a skewer comes out clean.
Let the cupcakes cool in the tins for 5 minutes and then transfer to wire racks to cool completely.
Prepare the peanut butter dark chocolate ganache, peanut butter swiss meringue buttercream and choc banana chips while you wait :)

Choc-Dipped Banana Chips
24 banana chips (have extras if you feel the need to snack)
100g dark chocolate
Melt dark chocolate either in the microwave or using a double boiler.
Dip one end of each banana chip into the dark chocolate, then place on a tray lined with baking paper.
Leave to set at room temperature.

Peanut Butter Dark Chocolate Ganache (and Dark Chocolate Ganache)
13.5 ounces dark chocolate, in small pieces
1 1/2 cups thickened cream
1 tbsp smooth peanut butter
Place the dark chocolate in a bowl.
In a small saucepan heat the cream over medium heat. Bring it just to a boil - be careful to not let it overflow.
Pour the cream over the dark chocolate and whisk until smooth.
Transfer half of the ganache into a separate bowl and whisk in the peanut butter.

Peanut Butter Swiss Meringue Buttercream
4 egg whites
270g caster sugar
250g unsalted butter, softened
4 tbsp peanut butter
Combine the egg whites and sugar in a heatproof bowl and whisk over a saucepan of simmering water until sugar is dissolved and the mixture is as hot as you can get it without the egg whites cooking. To test rub the mixture between your fingers and if you can't feel any sugar granules then it is ready.

With the whisk attachment on your mixer whisk the egg white and sugar mixture on high speed until a stiff meringue is formed and the mix has cooled down to room temperature. This should take about 10 minutes.
Now put the paddle attachment on your mixer and with the mixer on a low speed add a tablespoon of butter at a time. Once all the butter is incorporated turn the mixer up to medium speed and mix until the mixture is light and fluffy again. This should take about 4-6 minutes.
Add the peanut butter and mix on medium speed until combined.
Now that you have all the components ready and the cupcakes are cooled it is time to finish it all off. First using either an apple corer or a small knife cut a well into each cupcake...
Now it is time to fill each cupcake with the peanut butter dark chocolate ganache, I used a piping bag to do this but you could just use a spoon...
Fill each well right up to the top...
Then replace the top of each cupcake...
Finally pipe a swirl of the peanut butter swiss meringue buttercream, add a choc-dipped banana chip and drizzle with some dark chocolate ganache...
Enjoy your chocolate/peanut butter/banana creation...
Yum!