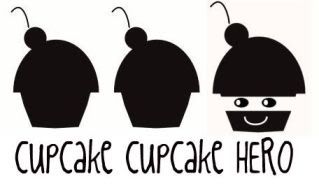 It is that time again people -
Cupcake Hero
time! The magic ingredient for the challenge this month was coconut - and when I think of coconut I think of Golden Rough (yummy chocolates), Bounty, Cherry Ripe, Lamingtons, coconut cream pie and yummy marshmallows covered in tasty toasted coconut. So many good things have coconut involved in them!
I figured that since I am an Aussie gal that I should make some lamington themed cupcakes, and if you don't know what a lamington is then you are missing out. It is a sponge cake cut into cubes or rectangles, dipped in chocolate glaze icing and then coated in coconut. Yeah it is good.
So my plan was to have a chocolate cake (because I think that is tastier than a plain old sponge), topped with vanilla swiss meringue buttercream (SMBC) and then coated in chocolate and rolled in shredded coconut. And I did follow that plan, but what I ended up with was not a lamington cupcake, but a snowball cupcake (a snowball is a marshmallow coated in chocolate and then rolled in coconut). Seriously when you bite in to this cupcake it feels like you are eating a snowball and for that reason these cupcakes are completely and utterly awesome. I think I might be making these again!
Chocolate Cupcakes
Makes 20
50g cocoa powder
125ml boiling water
185g unsalted butter, softened
330g caster sugar
3 eggs
225g self-raising flour
75g plain flour
1/2 tsp bicarbonate of soda
125ml milk
2 tsp vanilla extract
Preheat oven to 180C. Line two 12-hole muffin trays with cupcake cases.
Mix cocoa and boiling water in a cup. Set aside to cool.
Cream butter and sugar, add eggs one at a time, beating well after each addition.

Sift flours with bicarbonate of soda and stir into butter mixture. Add milk and vanilla and mix well. Gradually add the cocoa and water, mixing constantly.
Divide into cupcake cases and bake for 15-20 minutes or until a toothpick inserted comes out clean.

Vanilla Swiss Meringue Buttercream
4 egg whites
270g caster sugar
250g unsalted butter, softened
1 tbsp vanilla extract
Combine the egg whites and sugar in a heatproof bowl and whisk over a saucepan of simmering water until sugar is dissolved and the mixture is as hot as you can get it without the egg whites cooking. To test rub the mixture between your fingers and if you can't feel any sugar granules then it is ready.

With the whisk attachment on your mixer whisk the egg white and sugar mixture on high speed until a stiff meringue is formed and the mix has cooled down to room temperature. This should take about 10 minutes.
Now put the paddle attachment on your mixer and with the mixer on a low speed add a tablespoon of butter at a time. Once all the butter is incorporated turn the mixer up to medium speed and mix until the mixture is light and fluffy again. This should take about 4-6 minutes.
Add the vanilla and mix on medium speed until combined.

To Finish
350g milk chocolate
3 tbsp vegetable oil
1 cup shredded coconut (approximately)
Melt the chocolate using a double boiler.

Add the vegetable oil and stir until completely combined. Remove from the heat and allow to cool slightly. Put the coconut on a plate.

Dip each cupcake in the chocolate mix and then roll in the coconut. Be careful - I had two cupcakes where the frosting came off completely in the chocolate - whoops!
Dipped in chocolate...
Rolled in shredded coconut...
Cut in half and ready to devour...
Yum...