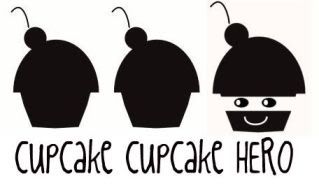 Have you all heard about
Cupcake Hero
? Well I had heard of it and was only just getting on this crazy baking band wagon when it all came to an end. Luckily Clara from
I Heart Cuppycakes
has taken the Cupcake Captain position and
Cupcake Hero
is back (that is a tongue twister if ever I saw one), and this time I am going to participate.
This
month's challenge
is a pumpkin cupcake with Halloween themed decorations - yay! I love pumpkin and I have a new found love for decorating so this challenge excited me a lot. Supposedly there is a pumpkin shortage in America - but luckily there is no such thing here, I actually had a lot of leftover pumpkin waiting for me in the fridge - it was begging to be baked, really it was.
So without further ado, here are my little pumpkin graveyard cupcakes...
Pumpkin Graveyard Cupcakes
Moist pumpkin spice cupcakes topped with sweet cinnamon butter cream, then finely crushed Oreo biscuits and spooky fondant skulls, bones and fingers
Creepy no? I thought so.
So the first thing that you need to do to make these creepy looking cupcakes is to make the fondant decorations - of course you can always use some store bought candy/lollies if you don't have the time or patience for this step.
Skull/Bone/Finger Fondant Cupcake Toppers
250g modeling fondant (knead in 1/2 tsp of Tylopur or CMC to normal fondant to make modeling fondant)
yellow paste colour
brown paste colour
red paste colour
vodka
Colour the fondant a very light yellow.

Next shape the decorations - have fun with this bit, I made bones, skulls and fingers, but you can make whatever you desire :)

Colour the decorations with the paste colours - I diluted mine with a bit of vodka and then painted directly on the decorations. I used the brown colour to make the bones and fingers look aged, and then the red for the end of the finger and the fingernail.
Leave to dry over night - I left mine for 3 days (do not store in a plastic container, just leave them in a safe and dry place).

Here is one of the many bones...
A tiny little skull - awww so cute...
And one of the gruesome fingers (and if you are wondering why it looks all bent and strange - that is because I modeled it on my finger, which is also all bent and strange)...
Now that you have your creepy decorations, it is time to make the cupcakes...
Pumpkin Spice Cupcakes (from Cupcake Heaven by Susannah Blake)
Makes 12 cupcakes
115g brown sugar
120ml sunflower oil
2 eggs
115g pumpkin, grated
(finely grated)
grated zest of 1 lemon
115g self-raising flour
1 tsp baking powder
1 tsp cinnamon
(I would reduce this to 1/2 tsp)
Preheat the oven to 180C and line a 12-hole muffin tray with cupcake cases.
Put the sugar in a bowl and break it up with a fork, then beat in the oil and eggs.
Fold in the grated pumpkin and lemon zest.
Combine the flour, baking powder and cinnamon in a bowl, and then sift into the sugar mixture and fold in.
Spoon the mixture into the cupcake cases and bake for 18 minutes or until a skewer comes out clean. Transfer to a wire rack to cool.

Next step is the...
Cinnamon Buttercream
125g unsalted butter, softened
500g icing sugar, sifted
1/4 cup milk
pinch of cinnamon
Beat the butter until light and fluffy.
Add 1 cup of the icing sugar and beat until combined. Scrape the sides of the bowl.
Add the milk and beat until combined. Add the remaining ingredients and beat until combined and fluffy.
Add more cinnamon if desired, add more milk if too stiff or add more icing sugar if it is not firm enough.

Now that the cupcakes have cooled put a dollop of buttercream on each cupcake and then using an offset spatula (or knife) level out the frosting.
Next crush up a packet of Oreos - using either a food processor, a rolling pin or like me you could use your bare hands - I know I am an animal! Then coat each cupcake with the crushed up Oreos...
At this point you might want to do a little taste test...
Yep these taste pretty darn good! The only thing that I would change would be to decrease the amount of cinnamon in the cupcakes (as I noted in the recipe).
To finish off the cupcakes top them with your creepy fondant decorations and then sit back and marvel at your creations (or just eat them, whatever you want to do).
One last thing...
Are you more of a creepy detached finger kinda person...
Or a skull and bones kinda person?